16 October, 2020, by Clincapture
"We are a close-knit team, so everyone knows what is happening all the time," said Alexis Hanley, customer success specialist at ClinCapture.
Hanley is part of the team that works with customers to resolve any inquiries. She believes ClinCapture has a unique edge compared to other customer success teams. The secret to the team's success: caring and personalization.
At ClinCapture, the customer success team has a 100 percent customer satisfaction rating. In September, response time to inquiries was less than 15 minutes.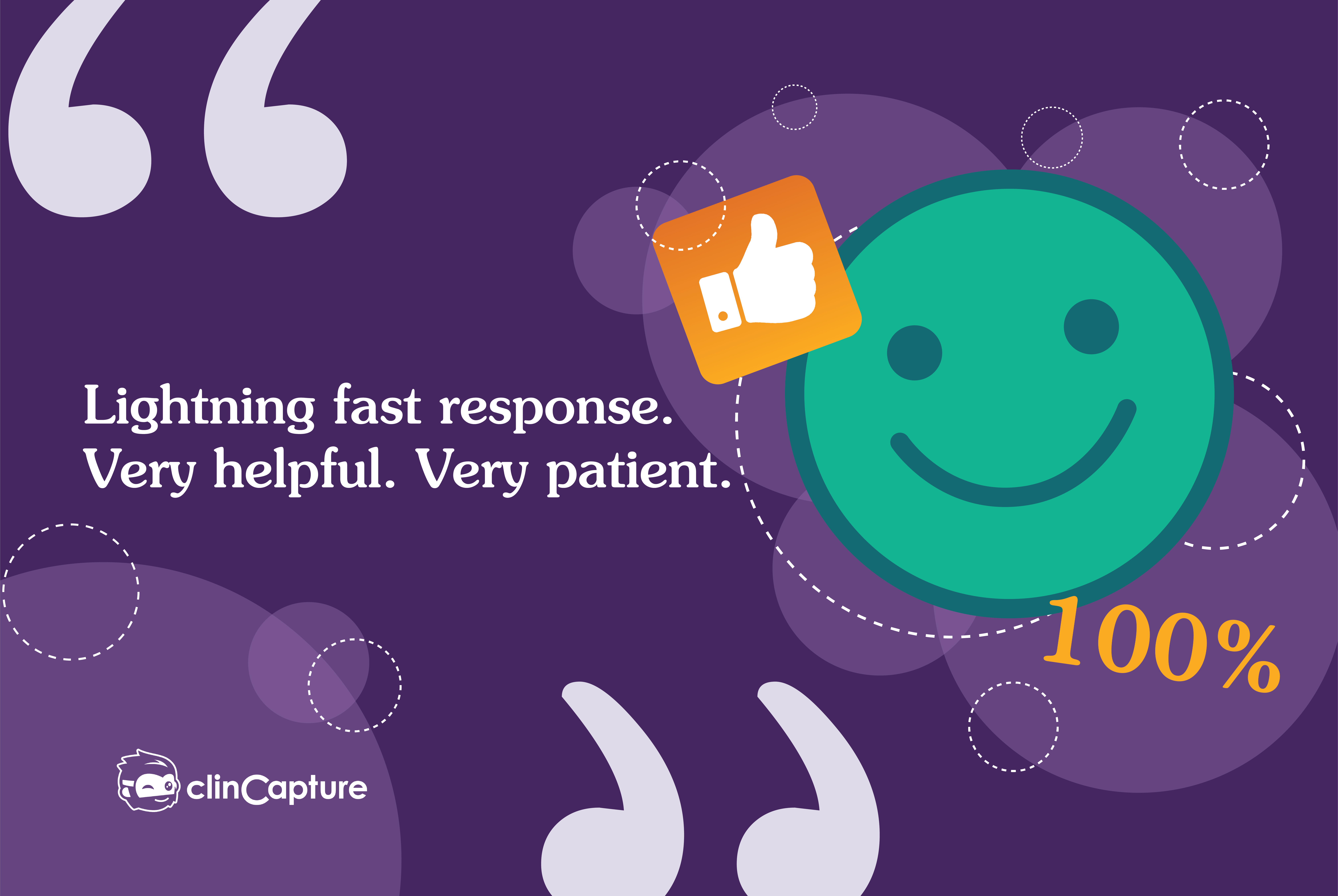 "Everyone knows what is happening, and we always put the customer first," explained Hanley. "If something is needed right away, then we all work together."
If a customer submits an inquiry, Hanely connects with them as soon as possible. "I will hop on a call with a customer, or with their permission, record it or take screenshots, then send it to engineering," she said. "Our customers express their appreciation for that."
A customer-centric approach is key for the team.
A lot of companies have an automated response system or a bot responding to customer inquiries from the start, but the team even personalizes that message, explained Hanley
You would think that Hanley is a bit of a wizard of herself.
Why? She uses a predictability model to help customers before they even ask questions.
"I really get to know each customer," she said as she explained how she learned to anticipate customer needs. "A review of historic data also helped."
Hanley provides information in ways that help ClinCapture customers. She will record videos to show what customers need to do within the system. Then she provides information on the next steps to help further guide them through the process.
"Personally, I really enjoy working in customer success because you get to see the team build trust, connect with customers, and see the end result."
Up Next
17 March, 2021

What is eConsent and what are the benefits?

What is eConsent?

The Food and Drug Administration has defined electronic informed consent (eConsent) as "the use of electronic systems and processes that may employ multiple electronic media, including text, graphics, audio, video, podcasts, passive and interactive Web sites, biological recognition devices, and card readers, to convey information related to the study to obta

Read more +

10 March, 2021

What is Captivate™ Reporting?

Captivate

™ Reporting 

was created with our customers in mind. At ClinCapture, we understand how important it is to have the ability to access trial data easily. That is why we created Captivate™ Reporting, a new tool

Read more +

9 February, 2021

What are the benefits of eSource for a clinical trial?

As the number of remote and decentralized trials increased due to the COVID-19 pandemic, the need for technology and questions about what is needed to run these trials efficiently also rose. We will break down what electronic Source (eSource) is and why you should consider it for your clinical trial.

What is eSource?

eSource data is data initially recorded in electronic form

Read more +