17 March, 2021, by Clincapture User
What is eConsent?
The Food and Drug Administration has defined electronic informed consent (eConsent) as "the use of electronic systems and processes that may employ multiple electronic media, including text, graphics, audio, video, podcasts, passive and interactive Web sites, biological recognition devices, and card readers, to convey information related to the study to obtain and document informed consent."
How does eConsent work?
ClinCapture offers Virtual Data Capture™ (VDC™) eConsent. The eConsent form is a web-based survey that the prospective study participant completes. The URL for the survey can be sent to study participants via email. All of the information that the participant provides in a VDC™ eConsent survey is captured directly into the Captivate™ electronic data capture (EDC) system.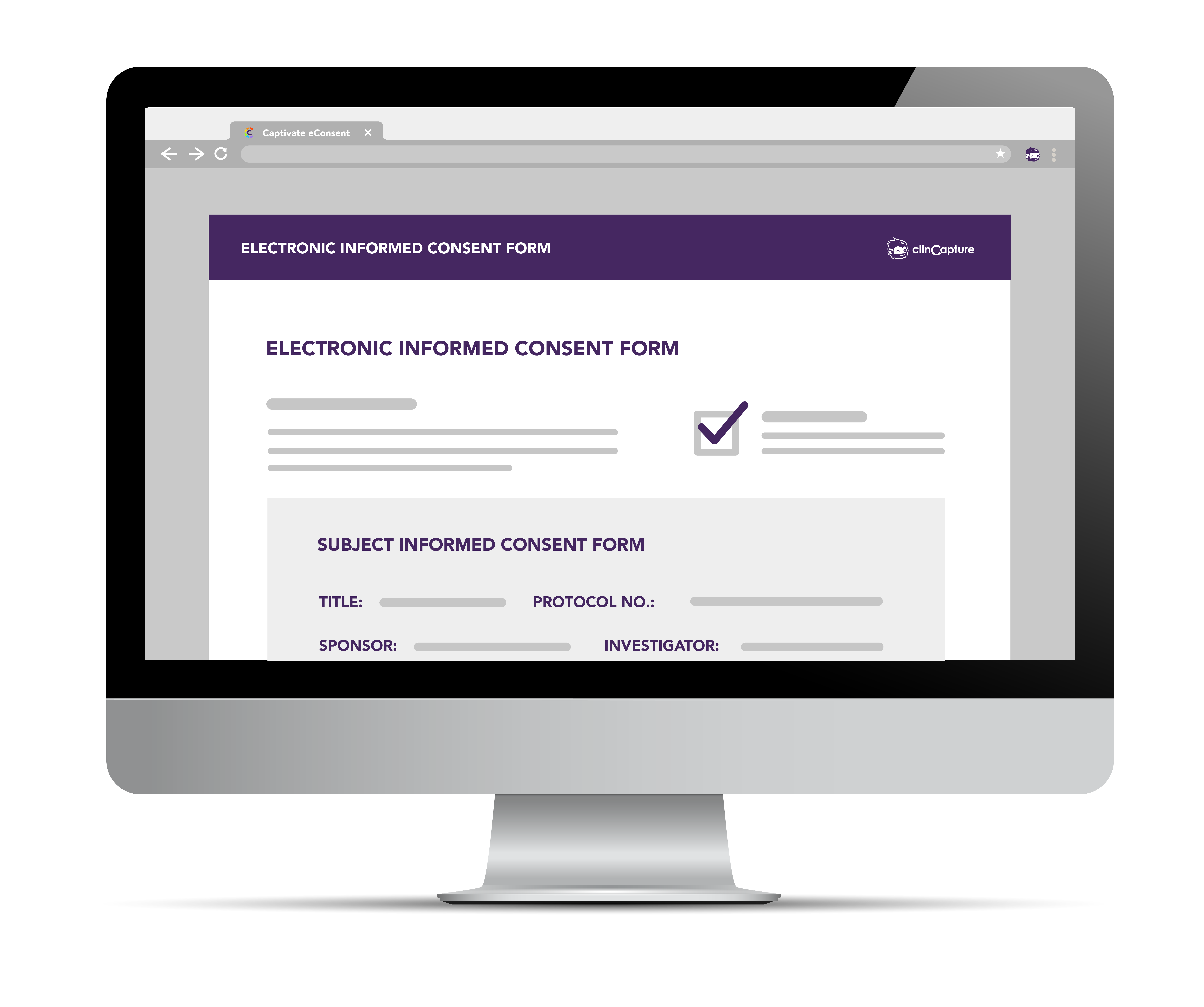 What are the benefits?
VDC™ eConsent automates the patient enrollment process and onboards patients directly into Captivate™ EDC.
Here are the benefits of VDC™ eConsent:
Speeds up the study start-up process
Reduces informed consent errors
Ability to configure for multiple languages and regulatory environments
Creates complete virtual experience for study participants
eConsent transforms the experience for the study participant by providing easy-to-understand clinical trial information while improving participant compliance and boosting engagement.
Why use VDC™ eConsent?
VDC™ eConsent not only improves the process for the study participant but for study admins as well. Since VDC™ eConsent is captured directly into Captivate™ EDC it eliminates the need for a "go-between" to input information. This saves time and money.
Is it compliant?
Yes, VDC™ eConsent facilitates guaranteed signature compliance and remote consent monitoring.
How can I get eConsent for my study?
You can learn more about eConsent by requesting a demo here. eConsent is available with VDC™, ClinCapture's cutting-edge suite of proprietary products designed to accelerate remote or decentralized clinical trials.
Up Next
10 March, 2021

What is Captivate™ Reporting?

Captivate

™ Reporting 

was created with our customers in mind. At ClinCapture, we understand how important it is to have the ability to access trial data easily. That is why we created Captivate™ Reporting, a new tool

Read more +

9 February, 2021

What are the benefits of eSource for a clinical trial?

As the number of remote and decentralized trials increased due to the COVID-19 pandemic, the need for technology and questions about what is needed to run these trials efficiently also rose. We will break down what electronic Source (eSource) is and why you should consider it for your clinical trial.

What is eSource?

eSource data is data initially recorded in electronic form

Read more +

25 January, 2021

Meet the Team: Samantha Purdie

Settled in her home in Tennessee, Samantha Purdie is busy building studies in ClinCapture's Captivate™. Shortly after joining ClinCapture in the summer of 2020, she adapted quickly and jumped right in. One day, on a weekly conference call with the team Purdie was asked how her workload is and if she can handle the additional studies. Her response? "Bring it on." A response that

Read more +