10 March, 2021, by Clincapture User
Captivate™ Reporting was created with our customers in mind. At ClinCapture, we understand how important it is to have the ability to access trial data easily. That is why we created Captivate™ Reporting, a new tool that offers pre-built industry-standard reports. 
Samantha Purdie, project manager at ClinCapture and former project admin for a clinical research organization, experienced the direct impact of reporting systems for clinical trials that required either extensive implementation or difficult processes to extract data from studies. 
"I never found it easy to do. It has always been a grueling process," she said. "[In other systems,] I used to spend 15 to 20 minutes filtering data that wasn't needed."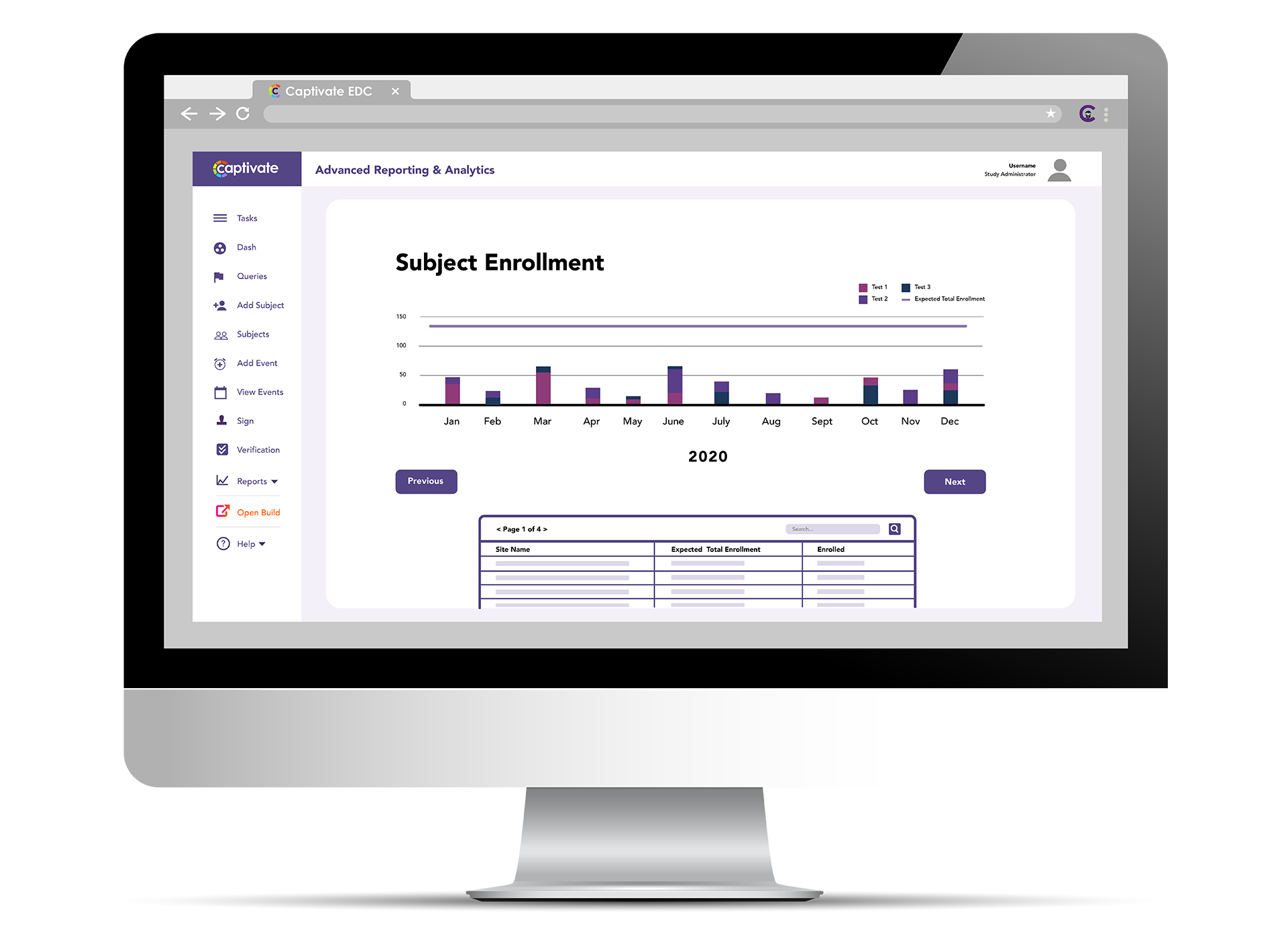 Purdie explained that with prior tools, she has dealt with excess metadata that wasn't needed for the report thus costing more of her time. 
ClinCapture's Captivate™ Reporting tool is solving that problem. Captivate™ Reporting features pre-built reports that provide the data that matters for clinical trials. 
The reports included in the tool have advanced features to track study progress, site performance and safety:
Subject Enrollment 

Query Status Report

Subject Status 

Form Completion 

Site Activation to First Patient Visit

Safety Dashboard
"It is a great tool," she said. Purdie also utilizes reports featured within the Captivate™ dashboard. The Captivate™ dashboard features reports that provide an overview of the study in real-time. 
The Captivate™ dashboard features the following reports, which are available for various studies roles to see in real-time. 
Subject Status

Events Status Summary

Enrollment

Event Status

Site Enrollment

Source Data Verification

Signature

My Discrepancies

Queries

Annotations per Case Report Forms
The reports featured in Captivate™ Reporting offer configurable options to view data. For example, the safety dashboard can be separated by Serious Adverse Reaction on the site or study level, site performance can be viewed by site, and the query can be viewed by Case Report Form, study or site. 
All of the study data is available in real-time for ClinCapture users and there is no need for additional software. Captivate™ reporting is available directly in the application. If you are interested in viewing Captivate™ Reporting, you can schedule a demo here.
Up Next
17 March, 2021

What is eConsent and what are the benefits?

What is eConsent?

The Food and Drug Administration has defined electronic informed consent (eConsent) as "the use of electronic systems and processes that may employ multiple electronic media, including text, graphics, audio, video, podcasts, passive and interactive Web sites, biological recognition devices, and card readers, to convey information related to the study to obta

Read more +

9 February, 2021

What are the benefits of eSource for a clinical trial?

As the number of remote and decentralized trials increased due to the COVID-19 pandemic, the need for technology and questions about what is needed to run these trials efficiently also rose. We will break down what electronic Source (eSource) is and why you should consider it for your clinical trial.

What is eSource?

eSource data is data initially recorded in electronic form

Read more +

25 January, 2021

Meet the Team: Samantha Purdie

Settled in her home in Tennessee, Samantha Purdie is busy building studies in ClinCapture's Captivate™. Shortly after joining ClinCapture in the summer of 2020, she adapted quickly and jumped right in. One day, on a weekly conference call with the team Purdie was asked how her workload is and if she can handle the additional studies. Her response? "Bring it on." A response that

Read more +